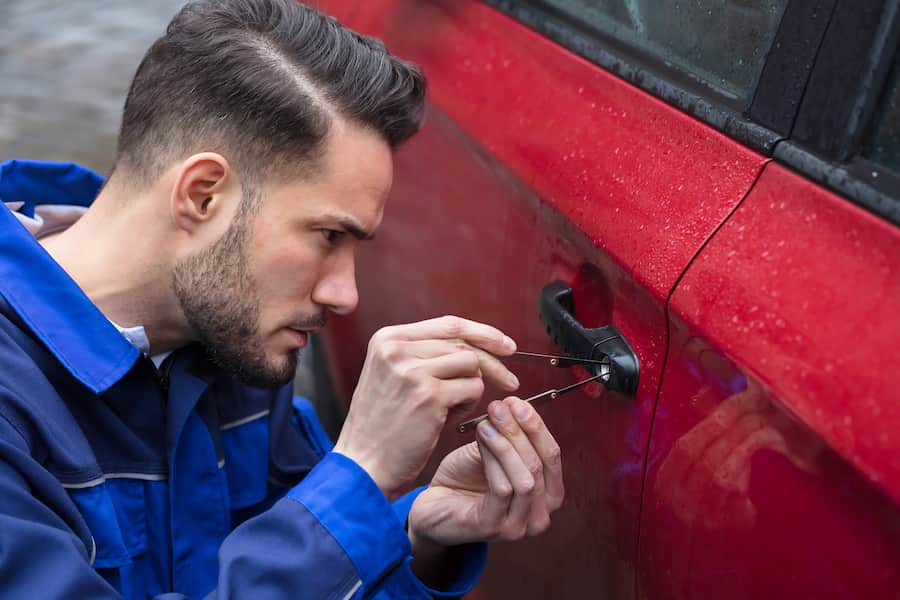 Have you lost your car key? Don't have a spare that you could use? Are you asking yourself, "Can a locksmith make a car key without a key"? If you said yes to any of these questions, this article is a must-read for you.
Although many people have the misconception that you need the original car key to make a copy, that's not true. In reality, your emergency locksmith can make a replacement car key within a few hours, even without the original key.
At Speedy Locksmith, we are a reputed Kansas City lock & key manufacturer with over [X] years' experience. We have helped numerous car owners out of a pickle by making a copy of their car keys when they've lost or broken their original key. We can help you too.
Contact us today for emergency car key replacement in Kansas City.
What types of car keys can be replaced without the primary key?
All types of car keys can be remade and replaced if you don't have the main key with you. These key types include:
Remote fob with key
Remote fob with an integrated key
Transponder keys (non-remote car keys)

How can a locksmith make a car key without a key?
When your car key is broken or damaged or lost, you'll need to contact your car locksmith to inform them that you don't have another copy of the key (or the original key) with you. The locksmith will then come where you're at – whether that's at home or mid-way to work – and bring their tools with them.
Usually, your Kansas City locksmith will follow a three-step process to replace your car keys when you don't have another to make a copy from. These steps are:
Verify your car ownership through the car registration documents
As a security measure, all locksmiths ask to see your registration documents or car title before they make a replacement car key. So, it's important that you keep your vehicle registration documents in the car at all times.
Once they verify using the documents and your identification card (such as your driver's license), they'll go ahead and start manufacturing the spare key. In some cases, you may be asked to give your vehicle identification number (VIN) as well. The VIN pulls up a comprehensive report about your car – such as date of assembly, date of purchase, auto insurance details, past services, problems faced, and so on. This additional information will help your locksmith understand your car key replacement needs better.
Identify the make and model of your car
Each car brand has a unique type of key they use. Within the brand, different models and different makes of each model will have minor differences in the way the key is made. This is why your locksmith will check what make and model your car is.
Your car model will also determine if you need a traditional transponder key or if you require a key with a remote fob. This can determine whether the locksmith can create the lock on-the-spot using a soft key or not. If they can't, then they will have to tow your car to the repair shop. Some locksmiths in Kansas City, like Speedy Locksmiths, offer towing services to clients who need emergency car key replacement.
Cut a new car key or reprogram the key
Depending on the type of key you need, your Kansas City locksmith will use one of many specialized tools and either cut the new key immediately or reprogram your old key fob. Cutting the key is a very simple task that just takes about an hour to do. You'll be back on the road in no time. Reprograming takes a little more time, but you should have your new keys in your hand in a few hours.
To reprogram a new key fob to be compatible with your car, the old key fob needs to be disconnected from your car first. A very important advantage of doing this is that it offers you extra security in case your key has been stolen by someone. They can't use the stolen car key because it's no longer compatible with your vehicle.
Once the old key's details are removed from the database, the locksmith can re-program a new key fob to work with your vehicle.

Will the car door lock need to be changed completely?
Not necessarily. This again depends on the make and model of your car, plus any damage that your car door lock may have suffered. Your locksmith will be able to tell you exactly what lock and key replacements are needed when you're at the shop.
How our team at Speedy Locksmiths can help
At Speedy Locksmiths, we have immense experience helping car owners get a replacement car key in Kansas City, even when they don't have a spare. So, if you have ever asked, "Can a locksmith make a car key without a key," the answer is "Yes, we can!".
We have worked with a variety of cars of all makes and models. You can trust us for a quick and budget-friendly car key replacement service.
Call us today for car towing and key replacement.