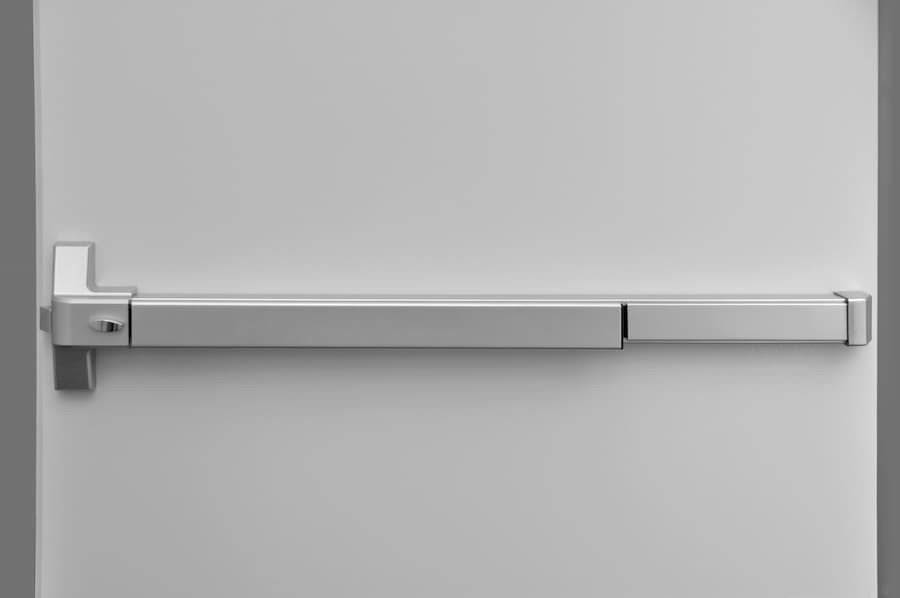 A panic bar installation is needed to increase security in commercial buildings.
What Is A Panic Bar?
A panic bar, also known as crash bar, is a door-opening mechanism commonly used in commercial and institutional buildings that permits users to open a door by pushing a bar.
Panic bars have been in use as early as the start of the 19th century. It was developed as a safety mechanism.
How Do Panic Bar Doors Work?
Doors with panic bars can be opened, even when locked, by pushing the bar on the inside of the door. It uses a simple release mechanism that allows people to use the exit even without any prior knowledge of its operation.
Just pushing the panic bar unlocks the mechanism, opening the door. It is especially beneficial in emergency exits in commercial buildings because these doors can be opened by any horizontal force on the bar.
What is the history of the panic bar?
There were many tragic events in the past that led to the development of the panic bar.
One of the most noteworthy ones was the Iroquois theatre fire in Chicago in 1903. About 602 people lost their lives because iron gates blocked the exits.
Another fire in Collinwood School in 1908 in Cleveland led to the death of 174 children. Many such tragedies could have been avoided if there were proper exits.
In most of these tragedies, people were crushed to death in panic leading to people frantically rushing outside to save themselves.
Sometimes there were not enough exits, and sometimes these exits were locked. In many cases, there were doors, but since they all opened inside, they were blocked by the surge of people.
In the 1911 Triangle Shirtwaist Fire of New York, 148 girls perished in the factory fire. At the trial, the owner's defense was that there were no laws defining the degree of protection he had to provide for his workers.
He was found guilty in the trial, but it also led to the first exit device being developed in 1911, and the first building codes came into existence in 1913.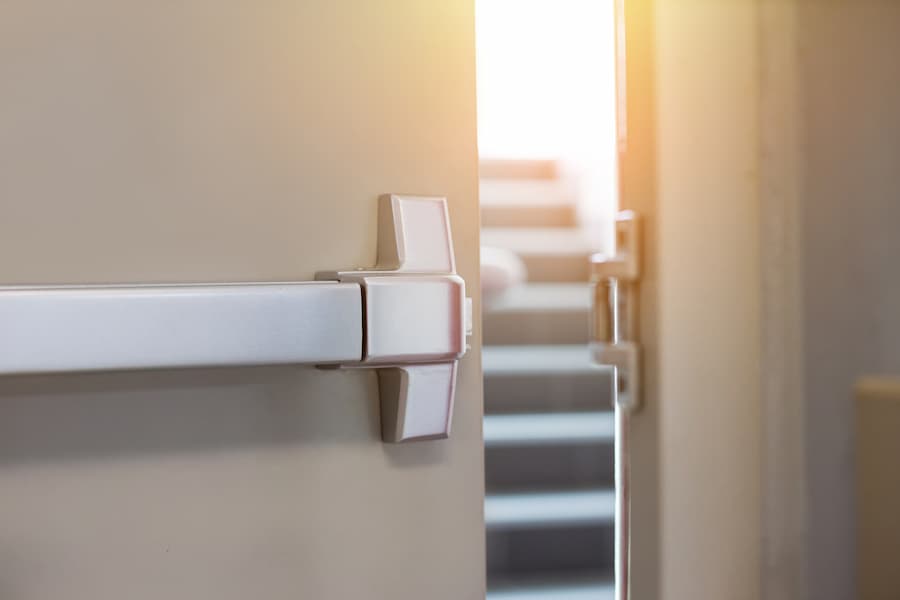 Where are panic bars needed?
It is necessary to place exit doors according to local building codes. The codes require all public buildings to have a minimum number of fire and emergency exits.
All such emergency exits are fitted with panic bars because they are known to save lives in cases of human stampedes. Many people panic during mass building evacuations caused by fire or other such emergencies, causing stampede-like situations.
Wherever emergency exits are needed, panic bars let people pass through them without the need to slow down. The fast-acting mechanism of a panic bar ensures that doors open quickly, minimizing the risk of creating a log jam at the exits.
Common locations of panic bars include doors that provide egress from large assembly areas. They are also found in doors that serve many occupants or those that are placed in hazardous areas.
For buildings that come under the International Building Code or local governing codes, panic bars are required for education, healthcare, or assembly spaces.
However, the number of exit doors and panic bars largely depends on the number of occupants exiting through a given door.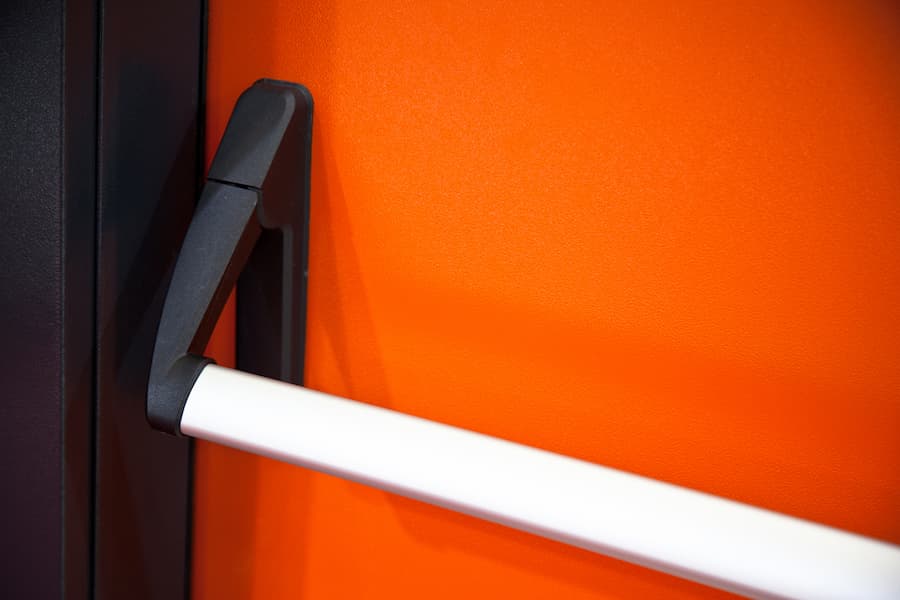 How do you unlock a panic bar?
Panic bars used on emergency exits typically have a spring-loaded metal bar that is fixed to the door horizontally. Since it is fixed on the inside of the door, people rushing out can easily open the door without needing any help from outside.
To unlock the panic bar, you need to press down on the metal bar that unlocks the door. Pushing on the door releases the lock, making it easier for people to push the door outward and rush to the outside.
Most panic bars work with a pressure of 15 pounds or less for ease of use. According to building rules, they also must cover at least half the width of the door for effective use in emergencies.
Where can panic bar be installed?
Panic bar installation usually is appropriate for schools, government buildings, office buildings, shopping areas to control the flow of shoppers exiting a a store from one side and one one comes in from the other side.
How To Get Started With Panic Bar Installation?
If you would like to inquire about panic bar installation, our customer care would be glad to assist with any questions that you might have.
Call Speedy Locksmith today, your local emergency locksmith company.
Mobile Locksmith Service Areas