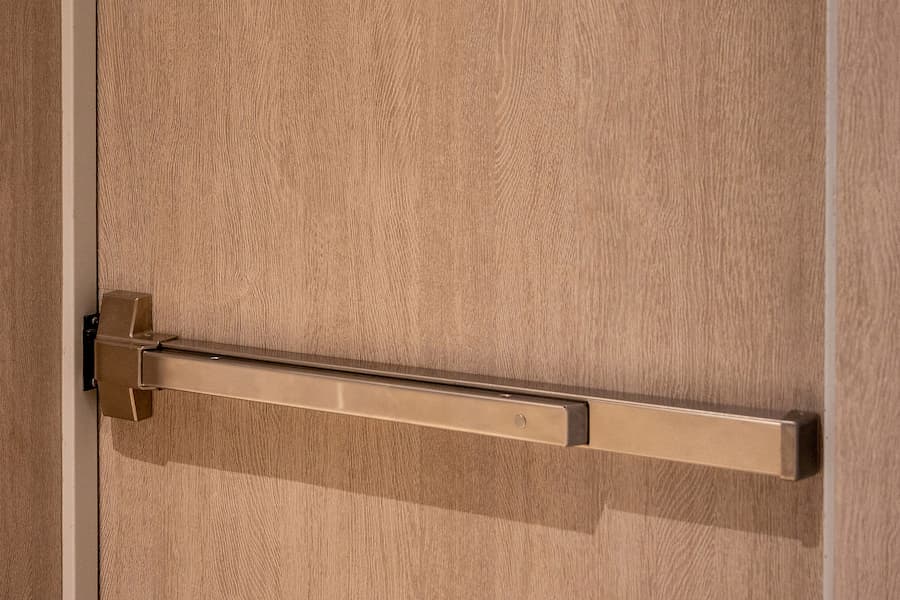 Many business owners looking to make their place of business secure wonder, 'how much does it cost to install a panic bar?'.
Relying on door locks for feeling safe and secure inside your office or commercial establishment is not an effective strategy.
In case of an emergency where the building occupants have to leave the building all at once, the locked door can create mass stampede and panic.
In such situations where the standard door locks do not help, installing a panic bar is the most effective solution.
Where are panic bars installed?
Panic bars are legal requirements in commercial establishments where standard doors prevent people from safely and quickly evacuating the building during an emergency.
The IBC (International Building Code) and Life Safety Code make it mandatory to install panic bars in buildings that have high-hazard occupancy or high traffic.
High traffic areas can include educational facilities or assembly facilities that have more than fifty people.
Examples of high-hazard areas are furnace rooms or rooms with a boiler, refrigeration machinery, and so on.
Even if your establishment is not required by law to install panic bars, you may consider installing one for enhancing the safety of occupants.
Installing the panic bar: Things to keep in mind
Whether you have to comply with the codes or wish to make your building safe, you will need to keep in mind the following when installing a panic bar:
The width of the activating part of the panic bar has to be half of the actual door's width at a minimum.
The force that the exit device requires to open should not be more than 15 pounds
Extra deadbolts, padlocks, chain lock and electric latches should not be added
If you are considering installing a panic bar, one of the key things you may be concerned about is the cost of panic bar installation.
How much does it cost to install a panic bar?
The cost of installing a panic bar will depend on many factors. One of these factors includes the type of panic bar mechanism that you want to install.
Most modern buildings have the touchpad type of panic bar, which is the most common style.
These are flexible styles when you want the electrified option. The crossbar is typically used on glass doors. However, due to a lack of space, electrified options may be limited.
The other type of panic bars used on many doors is the recessed panic hardware. This requires the door to have a cut-out but minimizes the hardware's projection from the door.
The other options include Rim panic device, Mortise, vertical rod and multi-point devices.
The Rim panic device is placed on the door surface while Mortise is installed within the door. The cable style or vertical rod device is best-suited for pairs of doors. The functionality and type of panic bars you choose will, in turn, determine other factors, such as controls, trims, and finishes.
Installing a high-end vertical rod panic bar device can cost you $4100 when you get professional companies to install them. Similarly, professional installation of a Mortise exit device can be as high as $2500, while Rim exit devices cost about $1700.
A great way to save on panic bar installation cost is to call your local emergency locksmith. Locksmiths charge about $500 for a Rim exit device and $800 for Mortise and Vertical rod devices.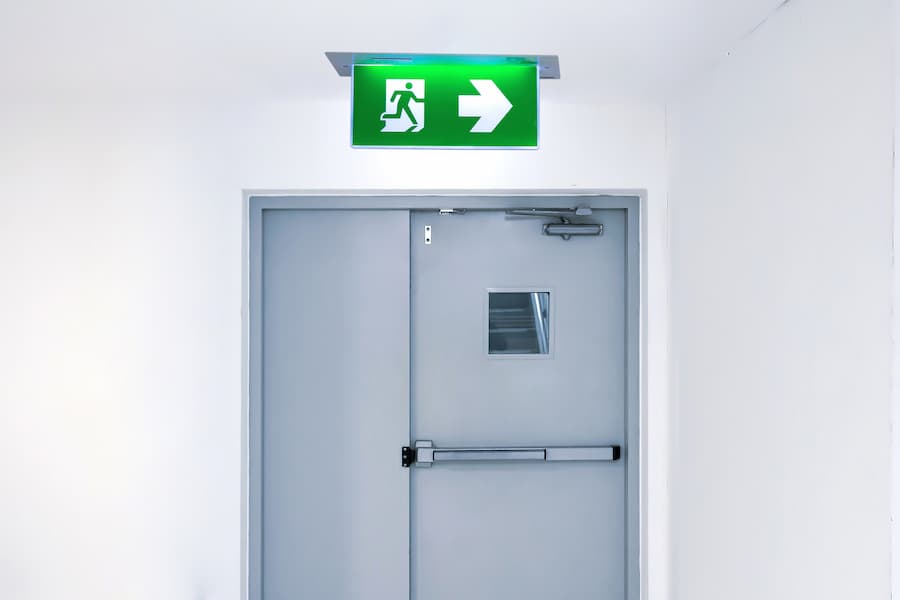 Affordable and expert panic bar installation in Kansas City
Speedy Locksmith is your trusted local commercial locksmith serving Kansas City and nearby areas. While our expert technicians are trained in the installation of all types of panic bars, we offer competitive rates for our services.
With us, you no longer have to worry about 'how much does it cost to install a panic bar?'
Mobile Locksmith Service Areas